The Economic Community of West African States (ECOWAS) and UNFPALiberia have agreed to strengthen partnership to end obstetric fistula in Liberia and the West African sub-region in general. As a mark of commitment to this partnership, UNFPA Liberia and ECOWAS Center for Gender Development (EGDC) jointly organized this year's International Day to End Obstetric Fistula in Monrovia in collaboration with Liberia's ministries of Health and Gender, Children and Social Protection.
This celebration was characterized by a wide dissemination of information on obstetric fistula and the availability of support for women and girls with the condition. The EGDC also joined action to words through symbolic donations of US$80,000 for the rehabilitation of the Fistula Rehabilitation Center in Phebe, Bong County and the Medical Unit for the care of fistula survivors at the St. Joseph Catholic Hospital in Monrovia. The main indoor program was highlighted by the high-level participation of the ECOWAS Commission represented by the President of the Commission, the President of the ECOWAS Court of Justice, and the ECOWAS Commissioner for Social Affairs and Gender, Commissioner for Political Affairs, Peace and Security (PAPS), Commissioner for Administration, Commissioner of Human Resources and His Excellency the Special Representative of the ECOWAS Commission in the Republic of Liberia.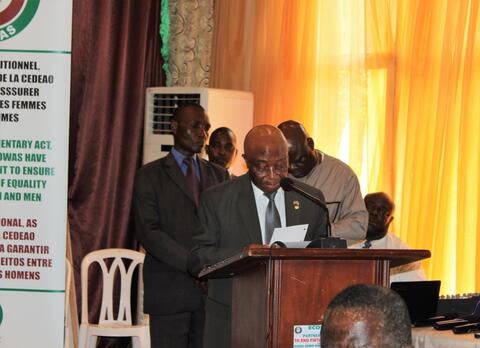 Representatives of Ministries of Health, Ministry of Gender, Children and Social Protection, Ministry of Foreign Affairs, Members of Parliament and Senate of Liberia, Representatives of the UN and Diplomatic Missions were also present. Most importantly, some women and girls who have survived fistula were also present to provide their testimonies. Speaking at the program, the Vice President of Liberia, Ambassador Joseph N. Boakai said the importance of tackling obstetric fistula in the subregion cannot be over emphasized, as it poses a major setback to the reproductive health of young girls and women.
"Obstetric fistula has been a serious concern to the Liberian government, considering the number of women suffering from the condition;" Vice President Boakai said. He lauded ECOWAS and UNFPA for efforts to ensure decent, productive and dignified life for women and girls of Liberia. For the ECOWAS Commissioner for Social Affairs and Gender, Dr. Fatimata Dia Sow, obstetric fistula raises issues that question the relationships between men and women in the society. "In organizing today's event to mark the International Day to End Obstetric Fistula, ECOWAS therefore, wants to seize the opportunity to take stock of the disease in the West Africa region and call on the implementation of suitable solutions to end it once and for all for the benefit of our people," she said.
Dr. Sow said despite efforts by ECOWAS member countries to improve the reproductive health of women and girls, the region is still among the zones with the highest number of women with fistula, with 50,000 to 100,000 cases per year, referencing WHO 2009 report.the world's Sustainable Development Goals by 2030.In a statement read on behalf of UNFPA Executive Director, Dr. Sogunro said: "greater efforts to address the underlying issues that perpetuate it, including poverty, gender inequality, early marriage and childbearing, and lack of education, are crucial." ECOWAS Commission President Marcel Alain De Souza said the commission was determined to help member states in the fight against fistula. This year's International Day to End Obstetric Fistula was celebrated under the theme: Hope, healing, and dignity for all while the local theme was: "ECOWAS Restores Dignity and Hope of Survivors of Obstetric Fistula."