BAHN, Liberia- Though 8 in 10 deliveries in Liberia occur at health and facilities and 84 percent of deliveries are assisted by skilled providers, the country still ranks among countries with high maternal deaths. According to the Liberia Demographic and Health Survey 2019-20, the current maternal mortality ratio is at 742 deaths per 100,000 live births. While, this figure represents an improvement from 2013 which was 1072 deaths per 100,000 live births, Liberia still has much work to do if it must meet the Sustainable Development Goal of bringing its maternal mortality radio down to 70 deaths per 100,000 live births.
For UNFPA, the United Nations Population Fund, the best way to achieve this ambitious target is to ensure all women have access to contraception to avoid unintended pregnancies; provide all pregnant women with skilled and respectful care in a safe environment during delivery, and make sure women with complications have timely access to quality emergency obstetric care. But the latter is critically undermined by delay pregnant women in reaching health facilities; especially in remote communities.
 
To reduce the dangers of childbirth in remote rural areas, UNFPA with the support of the EU-funded Spotlight Initiative is assisting the Ministry of Health with the building of maternal waiting homes at health facilities to provide women in the final stages of pregnancy and who are residing in distanced communities with accommodation where they will ultimately deliver under the care of a skilled birth attendant. The Spotlight Initiative is an EU – UN global partnership to eliminate all forms of violence against women and girls, launched on 18 June 2019 by the Government of Liberia, European Union, Civil Society Organizations and the United Nations in Liberia.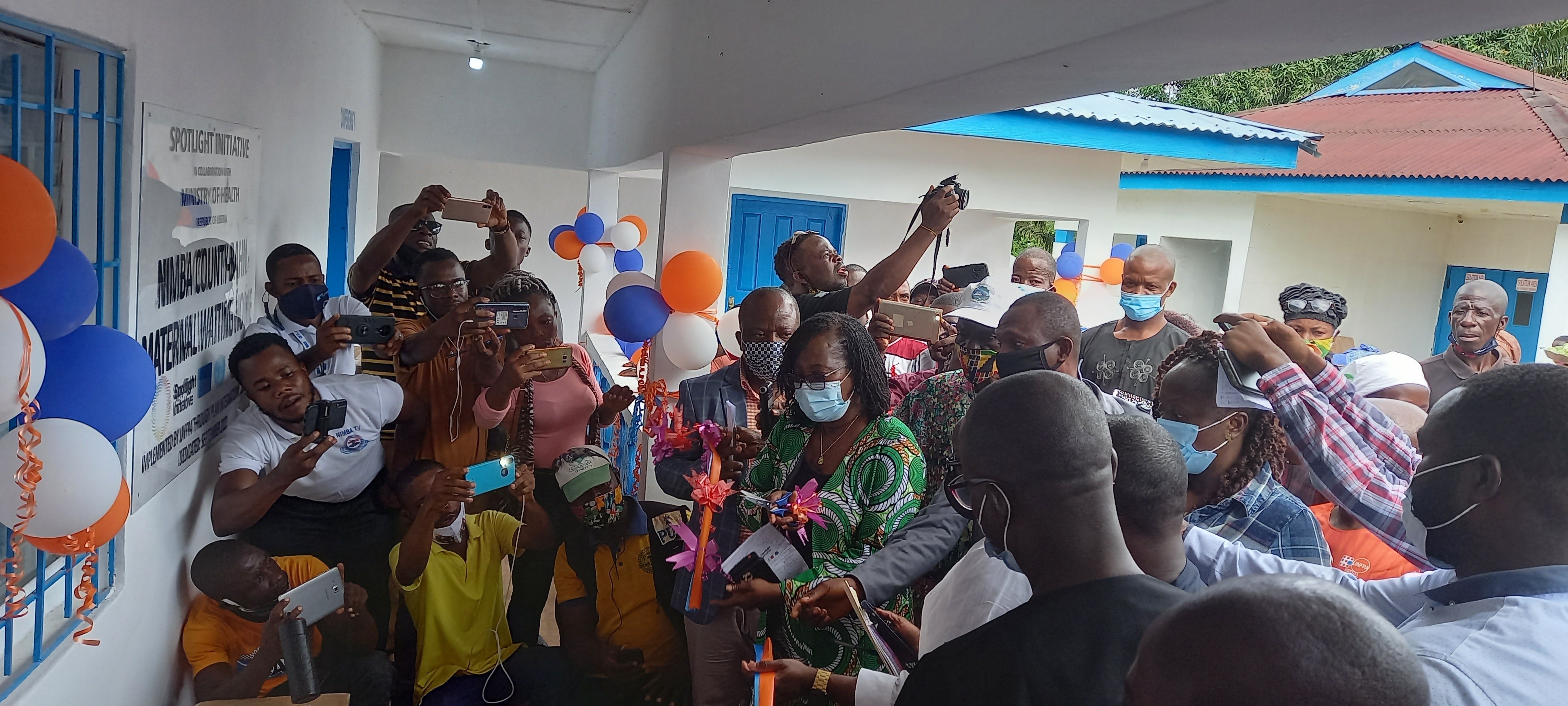 One of such facilities handed to the Ministry of Health on 10 September at the Bahn Health Center in Bahn, Nimba County. 
Victoria, age 29 is among the first group of pregnant women to access the facility. She is happy that pregnant women residing far from the health center can now have a safe space to wait when they are close to giving birth.
  
"I believe pregnant women from far communities now have the opportunity to come and wait here for their time to deliver," she said. 
"Working for the survival of mothers is a human rights imperative, and it is a development priority. UNFPA wants to ensure that Liberia remains on track to achieve the Sustainable Development Goals target for every country with high maternal mortality to reduce their pregnancy-related deaths to as low as 70 deaths per 100,000 live births by 2030," says Mr. Ibrahim M. Sesay, UNFPA Liberia Officer-In-Charge. 
"UNFPA is also working with the Government of Liberia and partners to prioritize the particular needs of women and girls, in line with its goals to end unmet need for family planning, end preventable maternal deaths, and end gender-based violence and harmful practices by 2030," Mr. Sesay adds.