UNFPA and the Planned Parenthood Association of Liberia (PPAL) engaged in a weeklong outreach activities between 07 and 13 July to provide family planning information and voluntary services to residents of Grand Bassa County. The outreach activities include live appearances on various Community Radios to answer some of the concerns of the local population regarding the myth surrounding the use of family planning.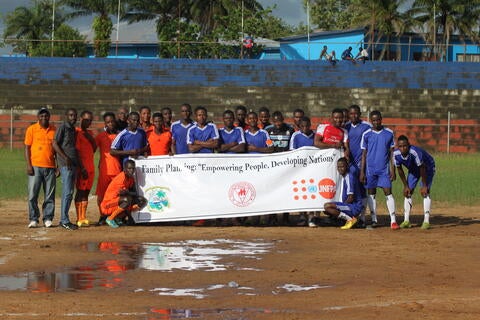 It also involved the use of the different family planning commodity distribution points to supply old users as well as recruit new ones. As part of the celebration, kickball and football matches were played in Buchanan between two communities, Kaytor Town and Biafra to create awareness about family planning services among the youth of the area. Hundreds of Grand Bassa residents benefitted from free family planning services.
Among them is Patience, aged 15 who chose the injectable (depo). Patience said that she is sexually active; as such, she decided to take advantage of the family planning services so as to prevent unwanted pregnancies. "Because of the difficult economic situation in Liberia, it is important for one to plan his or her life in order to avoid unnecessary burden;" Patience said. Rose, another teenager, could not hide her emotion after receiving the three-month injection. "Look, uncle, I long been waiting to get family planning; we hardly get family planning services here. Whenever we go to the hospital, they will tell us that they don't have them; so, I am so happy for me to receive it right here for free. Thank God for UNFPA and partners;" she said.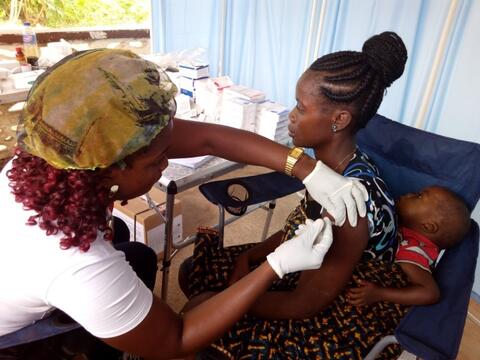 Hannah Johnny, 32, said she was glad that UNFPA and partners decided to take family planning services to them because, they find it difficult to get them in the county. Hannah, a mother of six children, said she does not want to have any child again, therefore believing that family planning is the surest way to prevent such. She encouraged women and girls to take advantage of the family planning program because it helps them to plan their lives. This year's World Population Day was celebrated under the theme: "Family Planning: Empowering People, Developing Nations."