MONROVIA, Liberia- "I am filled with joy when I wake up in the morning to see my husband by my side; my newborn baby lying in her bed; and to be greeted by my other two children. It was like I visited hell and came back to life. I never imagined that I was going be alive and most importantly deliver a baby that will survive," says Ms. Sedia Mawolo as she gazed at the newborn girl she cuddled in her arms.
Sedia,38, is a Registered Nurse at Liberia's largest referral hospital, John F. Kennedy Medical Center, and a COVID-19 survivor. She gave birth to a baby girl she has named Grace on 13 May just few days after recovering from Coronavirus.
 A recount of Sedia's ordeal
"On this day I reported to work as I would normally do. The first thing that I was greeted with by colleagues was scorn. Everyone was like what is she doing here. I first thought it was because of the degree of my pregnancy and the need for me to take maternity leave. But before I could access the office, my supervisor summoned me and requested that I go home. When I asked why, she told me that I will get to know later," Sedia said.
According to Sedia, she was shocked because her supervisors had turned down her numerous requests for maternity leave. 
"Due to my supervisor's insistence, I requested for permission to complete my ante natal care (ANC) visit," she added.
After completing the ANC visit, Sedia would return home just to be informed later by colleagues that the hospital's administration had ordered her quarantine because a co-worker she teamed up with had tested positive for coronavirus. According to the National Public Health Institute of Liberia, Liberia has recorded some 311 cases to date, with 28 fatalities.
But this was just the beginning of a nearly three-week ordeal during which Sedia said she cried almost daily for fear over whether her baby would survive her COVID-19 infection.
"Five days after taking it upon myself to take a test, medical staff in protective gear came and took me and family away from our house with no prior notice, while the whole neighborhood gathered to watch," she said.
Life at the Coronavirus treatment unit
Sedia was separated from her family and taken to a coronavirus care center at the 14 Military Hospital outside Monrovia, while her family was taken to a nearby Point of Care (POE). During her stay at the treatment center, four members of her households including husband, son, niece and sister would also test positive for Coronavirus. They all recovered.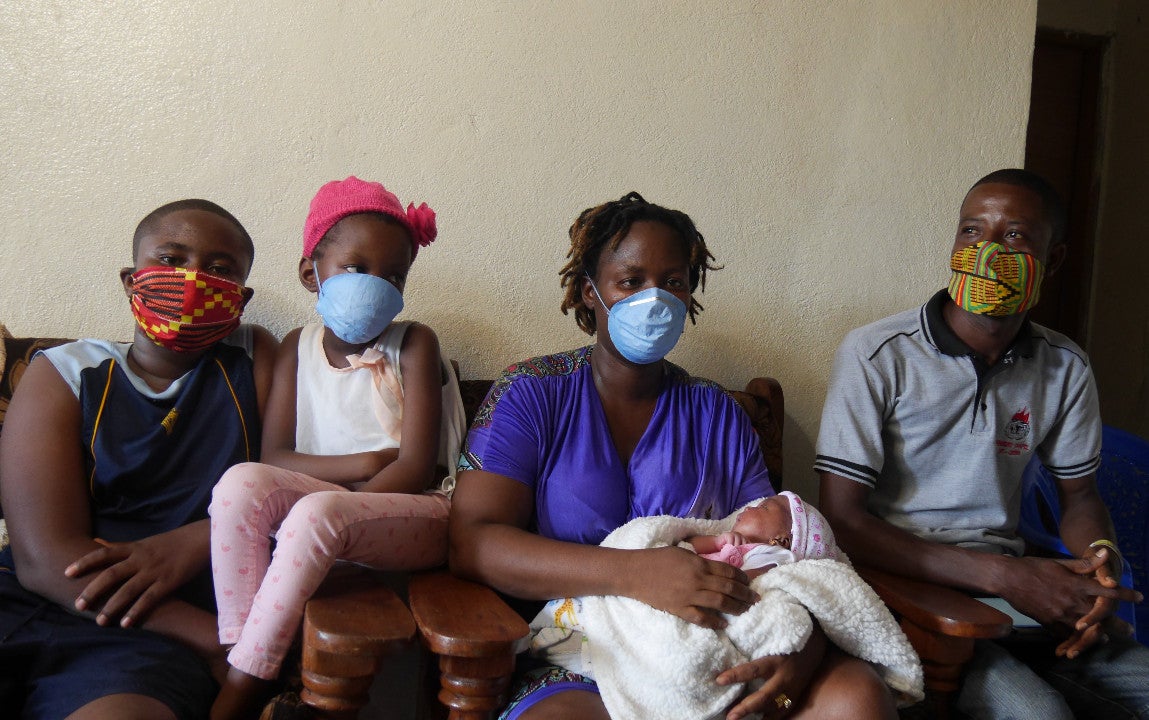 "I was like in hell, alone, and abandoned. To be pregnant and find yourself in a corona ICU is terrible," she said.
"Inside the military hospital, I did not eat for two days out of fear. I noticed that my baby was no longer moving in my stomach," she added.
Bringing hope to pregnant women at COVID-19 care unit
The 38-year-old Registered Nurse credited UNFPA, the United Nations sexual and reproductive health agency for discovering the hope and courage to stay alive.
"I found a savior in Mrs. Harriette Mondaye, who counseled me throughout until I gave birth to Grace," Sedia said. Harriette is the Country Midwifery Advisor at UNFPA Liberia.
"Recognizing the special needs of COVID-19 infected pregnant women, UNFPA moved in to ensure that Sedia, the index case of pregnant women Coronavirus positive in Liberia, received the best possible care and have a safe delivery," says Dr. Bannet Ndyanabangi, UNFPA Liberia Country Representative.
With support from the Spotlight Initiative, the EU–UN global partnership to eliminate all forms of violence against women and girls, and other partners, UNFPA has set up  a maternity unit and an operating theater at the main COVID-19 treatment center outside Monrovia with a plan to replicate it across the country.