Access to voluntary family planning is a human right. Yet, family planning remains out of reach for so many women and girls in Liberia. Thirty-one percent of couple who want to prevent unplanned pregnancy are not using a modern method of contraception; while only 21 percent of women of reproductive ages-15 to 49- have access to modern methods of family planning.  
There are many factors that contribute to this gap – limited availability of services, cost, and a host of conditions that prevent women and men from accessing sexual and reproductive health services. These conditions include limited access to health facilities. About 60 percent of people in rural Liberia have to trek for more than an hour; that is over 5 kilometers before accessing a health facility. Moreover, services at the health facilities, especially quality family planning services is affected by inadequate skilled health providers.
Ensuring the availability and accessibility of voluntary FP Services  
"The Ministry of Health is cognizant of the challenges associated with accessing family planning services in Liberia. We want to sustain the gains made over the year. We want to increase the modern contraceptive prevalence rate (mCPR) from 30.3 percent in 2016 to 39.7 percent by 2022; thereby ensuring that all couples, individuals, and adolescents have access to the full range of quality and affordable family planning services at a location of their choice," says Mrs. Bentoe Z. Tehoungue, Director, Family Planning Division, Ministry of Health.
Liberia is one of the beneficiaries of the Family Planning 2020 programme which "aims to expand access to family planning information, services, and supplies to an additional 120 million women and girls in 69 of the world's poorest countries by 2020."
 "We recognize that Sayana Press [the all-in-one injectable contraceptive, subcutaneous DMPA] can overcome access barriers by enabling health worker administration in remote locations, and even self-injection that is why Liberia decided to join countries piloting the DMPA-SC," Mrs. Tehoungue, adds.
Hundreds reached
Through this family planning expansion programme, hundreds of women and girls have been reached in Rivercess County; one of the counties in which more than a third of women have an unmet need. 
Nancy Benson is one of the beneficiaries. At age 17, Nancy is already a mother of two children. The first was born when she was 12. She started receiving the injectables three years ago after the birth of her second child. However, until February this year when the Community Health Assistant in her village started supplying her, she has had to miss some of her return dates due to the lack of transportation to access the services at the nearest health facility. "I thank God that I can receive the services right here in my village. I hope this can continue," Nancy said.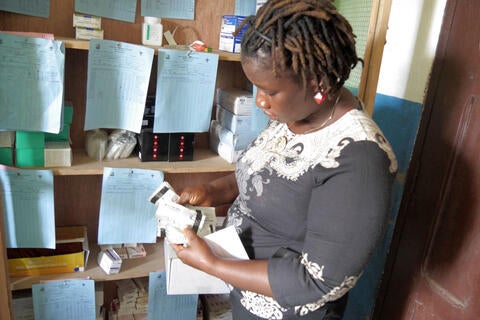 The Ministry of Health with the support from UNFPA, the United Nations Population Fund has already begun modalities for the expansion of Sayana Press to other parts of the country. 
Benefits of ensuring the availability of FP services at all levels
According to UNFPA, family planning is one of the most critically important investments in health, in women's rights, and in the life trajectories of young people. With age-appropriate sexuality education and access to contraception, the young can truly plan for schooling, work and childbearing on their terms. Ensuring that couples, individuals, and adolescents in Liberia have access to the full range of quality and affordable family planning services at a location of their choice would save lives by averting more than 600,000 unintended pregnancies, and nearly 216,000 abortions and prevent more than 3,300 maternal deaths by 2022.