You are here
Country Representative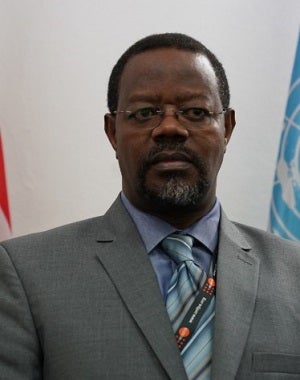 Dr. Bannet Ndyanabangi
Dr.  Bannet Ndyanabangi officially assumed his duty as Representative on Tuesday, 19 February 2019. In exercising his duties, he provides leadership and strategic direction for UNFPA Liberia Country Office.
Dr.  Ndyanabangi comes to UNFPA Liberia with a wealth of experience. In 1988, he started his career at the Bernhard Nocht Hospital of Tropical Medicine in Hamburg Germany where he worked as a medical doctor. Between 1990 and 2003, Dr. Ndyanabangi worked in his home country, Uganda, as a clinician and public health programs' manager; before moving on to serve as the Regional Coordinator, HIV/AIDS Programme, East, Central and Southern African Health Community (ECSA-HC) with Headquarters in Arusha, Tanzania. He later joined USAID in 2004 and worked on programs implemented by Management Sciences for Health (MSH) in Arlington Virginia, USA until his employment by UNFPA in 2009. Since joining UNFPA, Dr. Ndyanabangi has served in various capacities including Deputy Representative in Nigeria and South Sudan; Representative in Sierra Leone, as well as Representative in Afghanistan.
Dr. Ndyanabangi is a graduate of the University of Heidelberg, Germany, with a degree in Medicine. He also holds a Master's degree in Community Health and Health management and a PhD. in Public Health.