You are here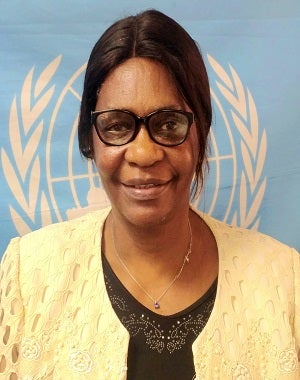 Ms. Ratidzai Ndhlovu
Ms. Ratidzai Ndhlovu is The United Nations Population Fund Representative in Liberia, a post she took up in January 2022.
Prior to this appointment, she served in UNFPA Senior Management for 17 years, first as the Assistant Representative for UNFPA in her own country, Zimbabwe. She then moved to Mozambique as the UNFPA Deputy Representative, where she led the pilot Delivering as One UN programme in her capacity as Chair of the Programme Management Team. After one term in Mozambique, Ratidzai became UNFPA Representative in Sierra Leone, where her hard work and passion significantly contributed to a doubling of the Contraceptive Prevalence Rate between 2008 and 2013. She was UNFPA Representative in Liberia for six months before being requested to move to Nigeria, where she was the UNFPA Representative until she retired from UNFPA in 2017.
Following her retirement from UNFPA, Ratidzai served as the Executive Director for a Consultancy firm, Empowerment for Career Development (EMCAD). During that time, she was engaged by UNFPA as the interim UNFPA Representative in Malawi in 2018 and as the Africa Regional Coordinator for the Africa Regional Spotlight Initiative on ending Harmful and Traditional Practices and ending child marriage from 2020 to 2021.