In its 172 years history, Liberia has conducted four modern censuses which have all revealed a constantly growing population: 1.1 million in 1962; 1.5 million in 1974; 2.1 million in 1984 and 3.5 million in 2008 respectively. 
The 2008 census was the first in nearly 24 years due the prolonged years of conflict that forced the country to miss the 1994 and 2004 round of censuses.
Keeping the process on track
The process for the subsequent one was delayed due to political transition and economic constraints.
However, the Government of Liberia with technical support from UNFPA, the United Nations Population Fund, have declared their preparedness to ensure that Liberia holds a successful census in March 2021. This follows the signing of the National Population and Housing Census Project Document on 08 October in Monrovia.
"We need updated data upon which the implementation of the government's development plan, the Pro-poor Agenda for Prosperity and Development (2018-2023) can be measured," says Liberia's Finance and Development Planning Minister, Samuel D. Tweh.  
"We want to know whether our development programs are reaching the targeted communities and what impact they are making in the lives of the population," Minister Tweh adds.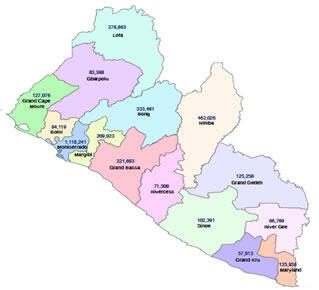 "As UNFPA, it is our desire to assist the government of Liberia to redefine the national data ecology. This census will be the starting point of formulating a new national data ecosystem that would create a repository of official and all other statistics for the benefit of all stakeholders," says UNFPA Representative, Dr. Bannet Ndyanabangi.
"The census will be the first to employ digital technology in all processes and holds a lot of benefits for the nation's socio-economic development. This enables the use of small area estimates in policymaking and development planning, monitoring and evaluation that ensures that government can reach the furthest first and no one is left behind in a development process of the country," says Dr. Ndyanabangi. 
Partnership for the 2021 Census
UNFPA is working closely with the Government of Liberia through the Liberia Institute of Statistics and Geo-Information Services (LISGIS) to ensure that the census is implemented in accordance with international standards and practices, especially regarding the use of technology to improve data quality, timeliness and accessibility. 
UNFPA has been working with the government and development partners to strengthen the technical capacity of LISGIS through the placement of highly skilled technical experts and training of technical staff and to mobilize resources for the census whose cost is around US$18.5 million. 
Though there is still a budget gap, the Government and partners have committed resources and are confident that the gap will be filled and a successful 2021 National Population and Housing Census will be conducted.