"I am filled with joy when I wake up in the morning to see my husband by my side; my newborn baby lying in her bed; and to be greeted by my other two children. It was like I visited hell and came back to life. I never imagined that I was going be alive and most importantly deliver a baby that will survive," says Ms. Sedia Mawolo as she gazed at the newborn girl she cuddled in her arms.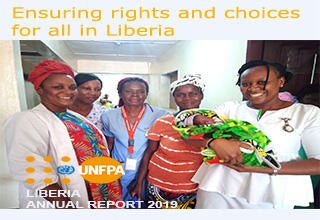 This annual report documents the successes and challenges of UNFPA's support to Liberia toward the full implementation of the Programme of Action agreed to by 179 governments in 1994 at the International Conference on Population and Development (ICPD) as well as achieving the 3 Zeros.
Statement by UNFPA Executive Director Dr. Natalia Kanem on the International Day of the Midwife, 5 May 2020 As the world battles COVID-19, women continue to get pregnant and babies are still being born.  Childbirth does...
Events
No content available